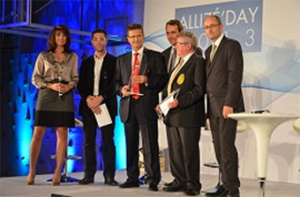 ALLIZE-ACDI-AWARDS
ABI Profils has received a "Allizé-ACDI-Award" in front of an audience of 500 entrepreneurs during the Allizé day 2013 on Thursday 10 October in Lyon. This trophy, awarded by Allizé Plasturgie, underlines the outstanding performance of our team since the company was taken over in in 2007.
This professional body brings together about 2000 companies and 50% of the French plastics industry in Auvergne, Burgundy, Rhône Alpes, Franche Comté, Languedoc Roussillon, Lorraine, and Provence Alpes Côte d'Azur.
Recognition for the work achieved by all the personnel and the management team, as well as a well-deserved spotlight on our company and its know-how.
ABI PROFILS wants to build on this recognition and take its commitment to quality and customer satisfaction one step further.
---
Back to news home page